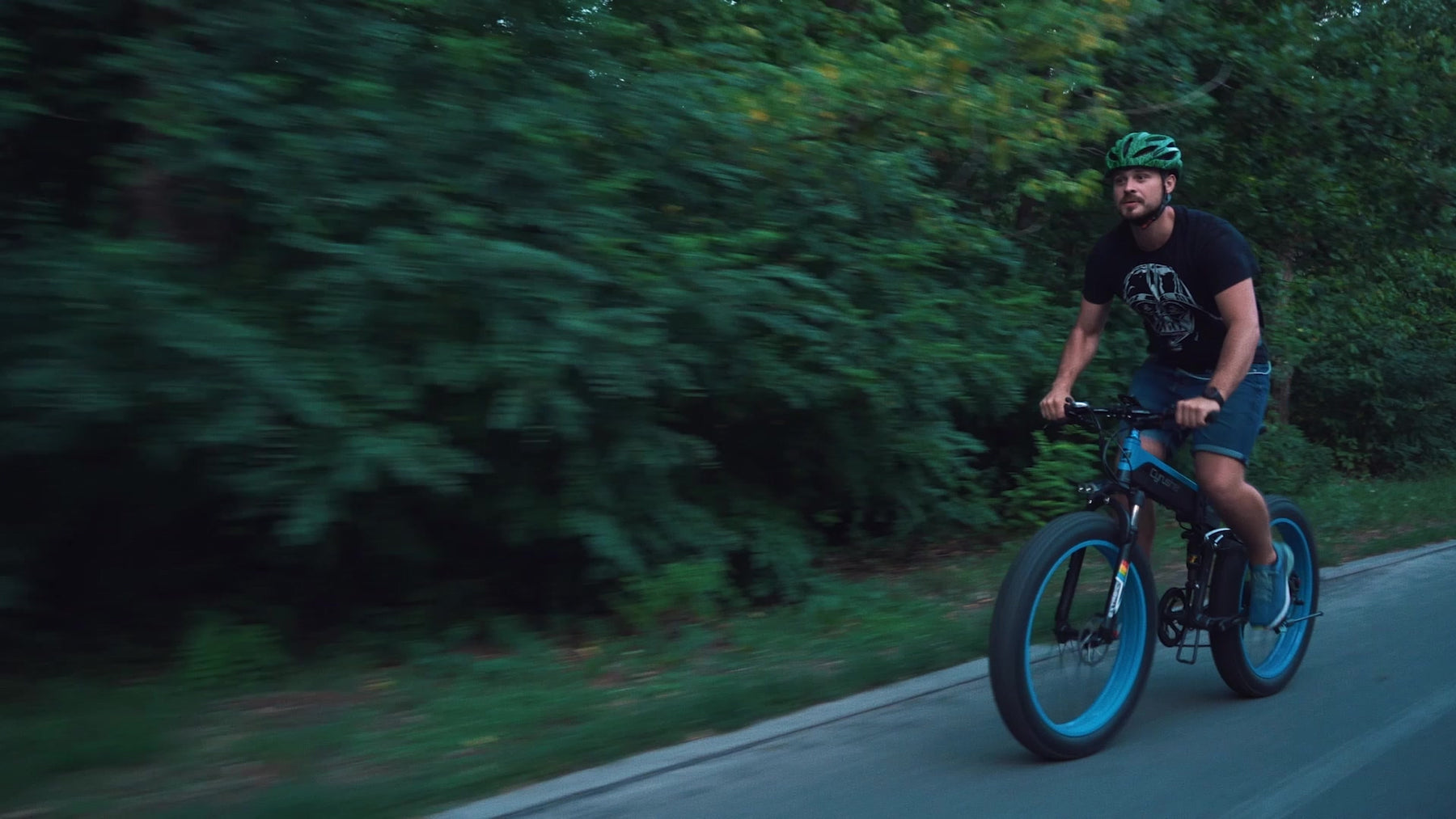 Cyrusher XF690 Full Review
Electric bikes are one of the greatest inventions in the world. These bikes outshine their crude counterparts in typically every possible feature as they bring users multiple steps closer to the future. While riding a bike will always be a memorable childhood/adulthood experience, riding an e-bike amplifies your actual efforts and makes you feel like you've unlocked a new super power (say hello to Captain Biker). While crude bikes may be powered by the rider's efforts, electric bikes have an entire powerhouse doing the heavy lifting, hence it makes bikers feel like they aren't riding but cruising. The convenience, versatility and comfort provided by these e-bikes is second to none and although they're a little bit heavier and way pricier than their counterparts, they are still very much preferred to them. As you know, they are quite a few e-bikes in today's market, each one offering something slightly different than the next. So how then does one handpick the best out of the best? Coming right up.


Cyrusher is the answer. This is one of the most reputable e-bike brands in the market. This company sure knows how to outshine its competition with innovation, incredible features, sustainability, power and efficiency of its merchandise. However, as much as this piece isn't about the Cyrusher enterprise, its acknowledgement is well deserved. This piece is about one of Cyrusher's prodigies, the XF690. This e-bike is hitting all the right spots. From design to speed, adaptability to effectiveness, this electric bike has mastered all arts. Here are some of its core features.
Features
The Cyrusher XF690 is an All-Terrain Full Suspension Electric Fat Bike. This means it can handle different landscapes ranging from rocky to snowy, beach sands to fields, concrete to wet or slippery and so much more. This is because the tires are designed to be fat. Fat in the sense that they are sturdy, thick and have a lot of depth, enabling comfort and maximum performance on diverse landscapes as well as terrains.
1.Appearance:
First off, the Cyrusher XF690 has an innovative yet practical build. This electric fat bike stands strong at 17 inches of high-quality Aluminum frame ready to tackle any race, journey or obstacle. This e-bike is fitted with an oil spring suspension fork which comes with its own lock out system. This system comes with its own shockproof front fork as well. Its 26-inch wheels make riding more efficient and less strenuous. It looks like a weapon with which one could use to achieve fitness.


2.Motor capacity
First off, crude bikes do not have a motor, and therefore they consume so much human energy when paddling and riding. The Cyrusher XF690 electric fat bike on the other hand has a powerful 500W motor which so happens to be the brushless type. This brushless motor gives riders the much-needed dynamics suited for any style of ride. This brushless motor can even be upgraded to a thousand watts based on the rider's preferences.


3.Riding modes
As expected, this electric fat bike has more than one riding mode which gives the rider enough functionality when tackling different kinds of landscapes. These modes include:
>Twist Throttle Mode
>Power Assisted Mode
>Pedal Only Mode
For the Twist throttle mode, the Cyrusher XF690 can attain a speed of 40km/h while the rider's legs are resting on the pedals. This mode is perfect for both short and long-distance rides as the bike moves at this speed without any physical initiation from the rider.
The Power Assisted mode has a total of 5 different speed levels and the rider gets to initiate whichever speed he/she wants the XF690 to move at. This multiple speed ability grants the rider with enough comfort to handle long-distance trips even those up to a hundred kilometers of range.
Lastly the Pedal Only Mode. The e-bike has a 7 speed Shimano gear shifting system which is used in the pedal the only mode to guarantee smooth and easy rides. This gear shifting system is used in this mode as an alternative to the motors as the pedal only mode doesn't initiate the use of the e-bike's 500W brushless motor.


4.Battery Specifications and longevity
The XF690 is powered by a 48V 10AH Panasonic cell battery. The 48V battery can also be upgraded to 12.8AH and 14.5AH, depending on the rider's needs. The battery is replaceable and can be found in a hidden and secure compartment within the e-bike's stem. This lithium battery BMS has a smart controller which immediately terminates the battery power as a safety measure when irregularities are noticed. These irregularities could spring from either of the following factors:
>Current
>Voltage
>Temperature
Hence the XF690 48V 10AH Lithium battery is so designed to tackle and neutralize anomalies in the departments of Pre-discharge function, equalization function, overcharge protection, over current protection, short circuit protection, and temperature protection.
The 48V 10AH Lithium battery has a waterproof IP65 design, delivers 500W of electricity, charges for 5-7 hours and has a usage time of 5-7 hours depending on the battery status. One full charge can last about 7 hours or over 600 cycles at a speed of 35km/h and a mileage of 40-50 km.


5.Brake System
The Cyrusher XF690 is well equipped with Hydraulic disc brakes. This e-bike's brake system is powerful as it has both front and rear brakes which enable riders tackle different terrains. Its brake system taps into the e-bike's 7 Shimano speed system and provides ample power whenever initiated, even in emergency scenarios or heavy traffic. As earlier mentioned in the battery specifications, the e-bike has a safety brake feature which terminates power supply when irregularities are noticed. This power-off or safety brake feature can also be controlled by the rider as it cuts off the power by turning off the motors whenever the brake levers are pressed, while bringing the e-bike to a halt.


6.Others
Suspension Fork:
The e-bike's suspension fork has a lockout aluminum alloy front and a rear spring suspension system which can handle up to 1000 LBS of rear shock.
Portability/Folding frame
The XF690 is highly convenient. Not only does it cover diverse distances, terrains and speeds, its frame is also foldable, making it very portable. Once folded, the e-bike can be placed at the trunk of a car and transported easily. This makes it more convenient to take around.


Built-In Removable Battery
The XF690 battery is in built but it can also be removed and replaced whenever needed. The battery opening is exposed whenever the e-bike is folded.
4" Fat Tire
The e-bike's fat tires make it eligible to pass through any form of obstacle with ease. From small branches to puddles, to even going up and down a flight of stairs. These tires improve the e-bike's versatility and make it perfectly suitable to handle any road condition be it a snow road, beach road, terrain, or flat road.


Horn/LED Headlight
With the Cyrusher XF690, you can conveniently go for night rides. The e-bike has a bright LED headlight which is powered by the main battery. Riders can alert pedestrians and car drivers of their arrival as the horn is loud enough to be heard by both parties.
LED Display Screen
Riders can monitor mileage, distance, speed, battery capacity and adjust e-bike settings all on the LED Display screen which is attached to the handle bars. The display screen has a touch sensitive feature.
Gradeability
The XF690 has the build, power and framework to handle a gradient of up to or more than 35 degrees. This means that riding uphill with the e-bike has lost its sense of difficulty. This feat is attributed to the XF690's powerful motor.


E-bike options
The XF690 comes in four color options which include blue, green, yellow and red. All have been beautifully painted with a black silhouette.
Warranty
The Cyrusher XF690 comes with a one-year warranty period initiating from the date of original purchase.
Cost
For its range of features, versatility and functionality the price of the Cyrusher XF690 is fair. This e-bike costs about $2,200-$2,600 and it can currently be found at the former price at cyrusherebike.com.
You think you've got an amazing biking experience already? Biking just got much easier with the Cyrusher XF690! This electronic fat bike offers to give you maximum benefits for your money and has major advantages, it also improves on the limitations witnessed in the crude bikes. The XF690 offers a versatility of purpose and that of use. Riders can use this as a means of exercise, to compete in sports, to ride long distances and for adventure purposes too. This multipurpose electronic fat bike can handle multiple landscapes and terrains effectively without glitches. The Cyrusher XF690 offers the three in one package of power, versatility and comfort which makes it stand out from all other models. It is quite the beast of electronic bikes.


To find out more about the Cyrusher XF690, its detailed features, working principles and shipping costs, visit cyrusherebike.com.